The Earthquake rock was removed for more observation
Psalm 69
1 Save me, O God!
For the waters have come up to my neck.
2 I sink in deep mire,
where there is no foothold;
I have come into deep waters,
and the flood sweeps over me.
3 I am weary with my crying out;
my throat is parched.
My eyes grow dim
with waiting for my God.

4 More in number than the hairs of my head
are those who hate me without cause;
mighty are those who would destroy me,
those who attack me with lies.
What I did not steal
must I now restore?
5 O God, you know my folly;
the wrongs I have done are not hidden from you.

6 Let not those who hope in you be put to shame through me,
O Lord God of hosts;
let not those who seek you be brought to dishonor through me,
O God of Israel.
7 For it is for your sake that I have borne reproach,
that dishonor has covered my face.
8 I have become a stranger to my brothers,
an alien to my mother's sons.

9 For zeal for your house has consumed me,
and the reproaches of those who reproach you have fallen on me.
10 When I wept and humbled my soul with fasting,
it became my reproach.
11 When I made sackcloth my clothing,
I became a byword to them.
12 I am the talk of those who sit in the gate,
and the drunkards make songs about me.

13 But as for me, my prayer is to you, O Lord.
At an acceptable time, O God,
in the abundance of your steadfast love
answer me in your saving faithfulness.
14 Deliver me
from sinking in the mire;
let me be delivered from my enemies
and from the deep waters.
15 Let not the flood sweep over me,
or the deep swallow me up,
or the pit close its mouth over me.

16 Answer me, O Lord, for your steadfast love is good;
according to your abundant mercy, turn to me.
17 Hide not your face from your servant;
for I am in distress; make haste to answer me.
18 Draw near to my soul, redeem me;
ransom me because of my enemies!

19 You know my reproach,
and my shame and my dishonor;
my foes are all known to you.
20 Reproaches have broken my heart,
so that I am in despair.
I looked for pity, but there was none,
and for comforters, but I found none.
21 They gave me poison for food,
and for my thirst they gave me sour wine to drink.

22 Let their own table before them become a snare;
and when they are at peace, let it become a trap.
23 Let their eyes be darkened, so that they cannot see,
and make their loins tremble continually.
24 Pour out your indignation upon them,
and let your burning anger overtake them.
25 May their camp be a desolation;
let no one dwell in their tents.
26 For they persecute him whom you have struck down,
and they recount the pain of those you have wounded.
27 Add to them punishment upon punishment;
may they have no acquittal from you.
28 Let them be blotted out of the book of the living;
let them not be enrolled among the righteous.

29 But I am afflicted and in pain;
let your salvation, O God, set me on high!

30 I will praise the name of God with a song;
I will magnify him with thanksgiving.
31 This will please the Lord more than an ox
or a bull with horns and hoofs.
32 When the humble see it they will be glad;
you who seek God, let your hearts revive.
33 For the Lord hears the needy
and does not despise his own people who are prisoners.

34 Let heaven and earth praise him,
the seas and everything that moves in them.
35 For God will save Zion
and build up the cities of Judah,
and people shall dwell there and possess it;
36 the offspring of his servants shall inherit it,
and those who love his name shall dwell in it.


What a sad, mournful Psalm this is. It is the the cry of Good Friday. Jesus was not only hunted, deserted, mocked flogged, condemned, beaten, but he physically began to deteriorate during the 650-yard journey from the Fortress Antonia to Golgotha . His muscles had been pushed past human endurance.
Where would water have come from in this Psalm? Many doctors have looked at the gospel of John to understand what would have physically caused Jesus' death. They all agree Jesus suffered so much from the Garden of Gethsemane, all of these things hastened His death.
Dr. David Teraska has researched the Crucifixion of Jesus Christ
"The average time of suffering before death by crucifixion is stated to be about 2-4 days (Tenney), although there are reported cases where the victims lived for 9 days. (Lipsius) The actual causes of death by crucifixion were multifactorial, one of the most significant would have been the severity of the scourging. (Edwards) Jesus died a quick physical death (Pilate was surprised that He had died so soon. (Mark 15:44)). While many of the physical signs preceding death were present, one possibility is that Jesus did not die by physical factors which ended His ability to live, but that He gave up His life of His own accord. His last statement, "Into your hands I commit my Spirit" seems to show that Jesus' death occurred by giving Himself up. In John 10, He states that only He has the power to lay down His life. He proved His power over death by His resurrection. Truly, God is the one who has power over life and death."
John 19:33-37
But when they came to Jesus and found that he was already dead, they did not break his legs. 34Instead, one of the soldiers pierced Jesus' side with a spear, bringing a sudden flow of blood and water. The man who saw it has given testimony, and his testimony is true. He knows that he tells the truth, and he testifies so that you also may believe. These things happened so that the scripture would be fulfilled: "Not one of his bones will be broken," and, as another scripture says, "They will look on the one they have pierced."
Where did the water come from that was mixed with Jesus blood and possibly the water mentioned in Psalm 69?
Dr. Terasaka continues, "One theory states that Jesus died of a massive myocardial infarction, in which the heart ruptured (Bergsma) which may have resulted from His falling while carrying the cross. (Dr. D. A. Ball) Another theory states that Jesus' heart was surrounded by fluid in the pericardium, which constricted the heart and caused death.(Dr. C.T. Davis) The physical stresses of crucifixion may have produced a fatal cardiac arrhythmia. (Dr. C..Johnson)The stated order of "blood and water" may not necessarily indicate the order of appearance, but rather the relative prominence of each fluid. In this case, a spear through the right side of the heart would allow the pleural fluid (fluid built up in the lungs) to escape first, followed by a flow of blood from the wall of the right ventricle.(Dr. W.D. Edwards) The medical evidence supports that Jesus did die a physical death."

"Christianity is the story of God sacrificing His Son to restore a relationship that was broken. As stated in the above text, Jesus gave up His life to pay for the sins of mankind and taking the punishment for the sin upon Himself. Because He gave His life on the cross, any one who believes in Him will have a restoration of a personal relationship with God. Jesus Himself claimed to be the only way to God (John 14:6) and only by the knowledge of God through Jesus Christ can man have a meaningful and purposeful life. (John 10:10)"

"God desires that all men come to know Him in a personal way. If you have never received Jesus' gift of Himself for your sins , or have any doubts to how you can have a meaningful and purposeful life by the knowledge of God through Jesus Christ, you can start by praying a simple prayer, such as:"
Dear Lord Jesus. Thank you for dying on the cross for me. I confess that I am a sinner before God. I acknowledge that by your death and sacrifice that you have paid the penalty of my sins for me. Please come into my heart and become the Lord of my life. As you gave your life, I give my life to you. I will take up my cross and follow you, not as I will, but to follow Your perfect will for my life. In Jesus Name, Amen.
Christians Know! Easter follows Good Friday. We do not have a God who sits on high without concern for us. God chose to dwell with us. God did not leave Jesus, He does not leave us, this is the ending of Psalm 69:


30 I will praise the name of God with a song;
I will magnify him with thanksgiving.

32 When the humble see it they will be glad;
you who seek God, let your hearts revive. (!)

33 For the Lord hears the needy
and does not despise his own people who are prisoners.

34 Let heaven and earth praise him,
the seas and everything that moves in them.

35 For God will save Zion
and build up the cities of Judah,
and people shall dwell there and possess it;
36 the offspring of his servants shall inherit it,
and those who love his name shall dwell in it.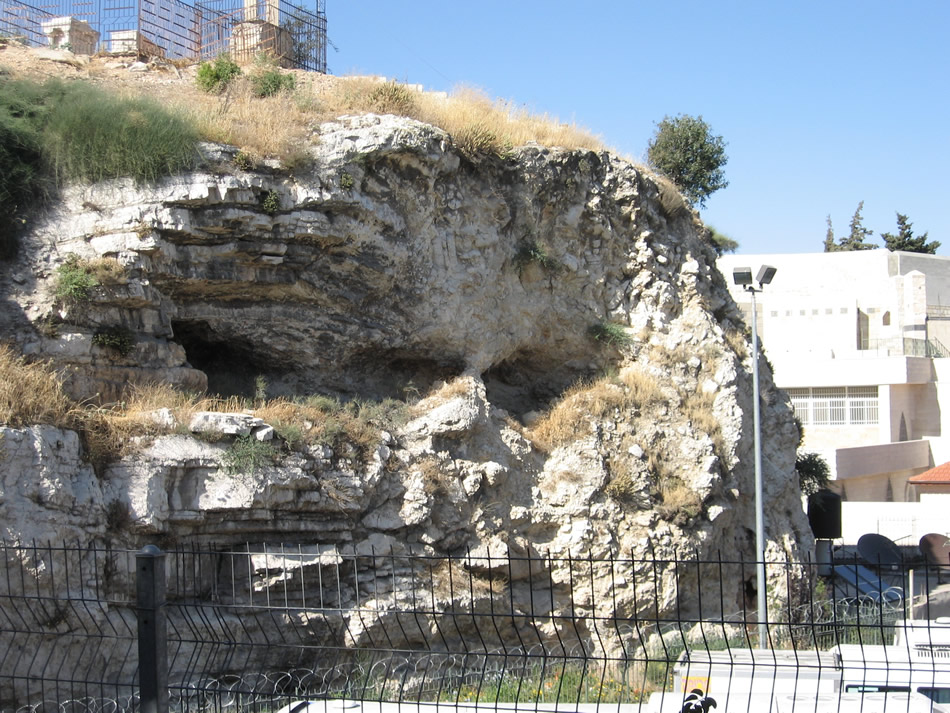 This site is called Gordon's Calvary because in 1883 British General Charles Gordon suggested that this outcropping of rock just across the street from the north city wall was Golgotha, the Place of the Skull. The proposal that this was the original Calvary gained some momentum since a garden tomb had been found near this location in 1867.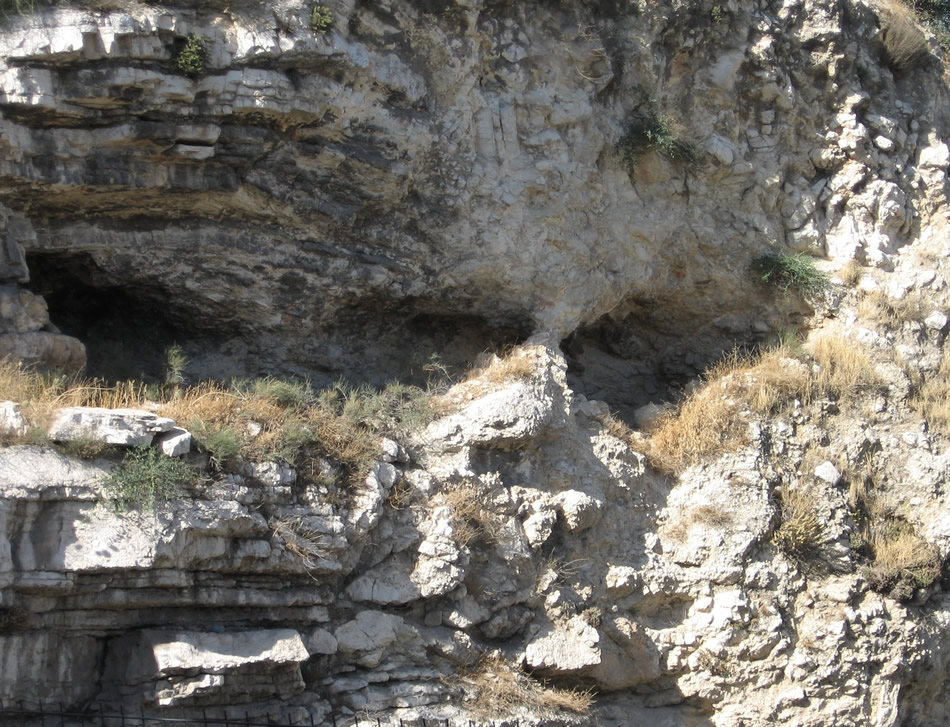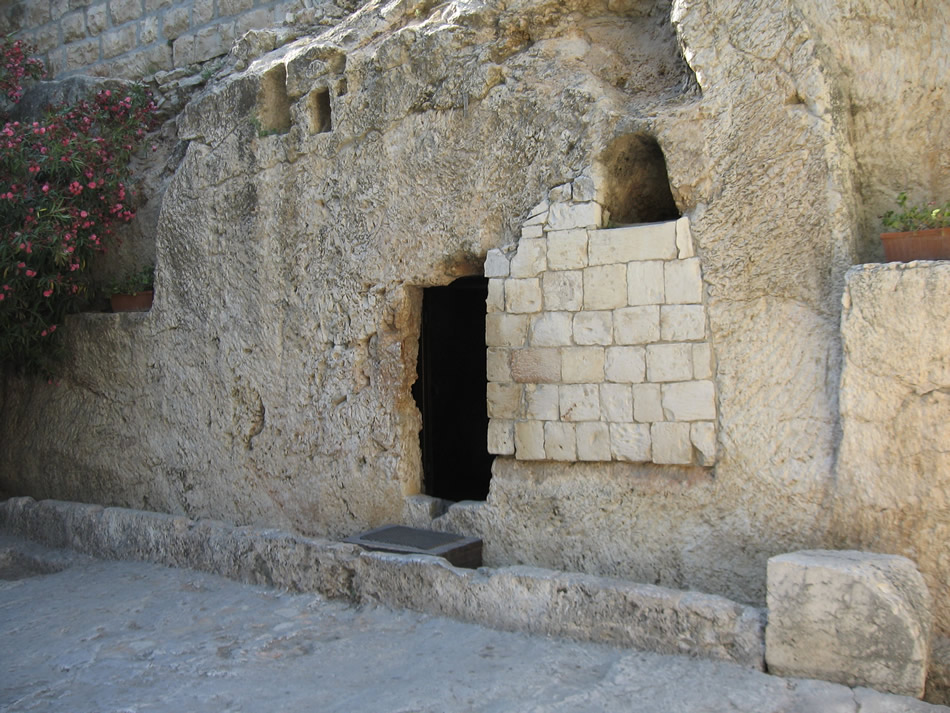 About 300 feet to the left (west) of the "skull" of Gordon's Calvary is a rolling stone tomb (there is a track or groove cut in the rock in front of the entrance of the tomb for a rolling stone) with a burial bench inside. This tomb was discovered in 1867, and because of its proximity to "the Skull" it was assumed by the British to be the tomb of Christ.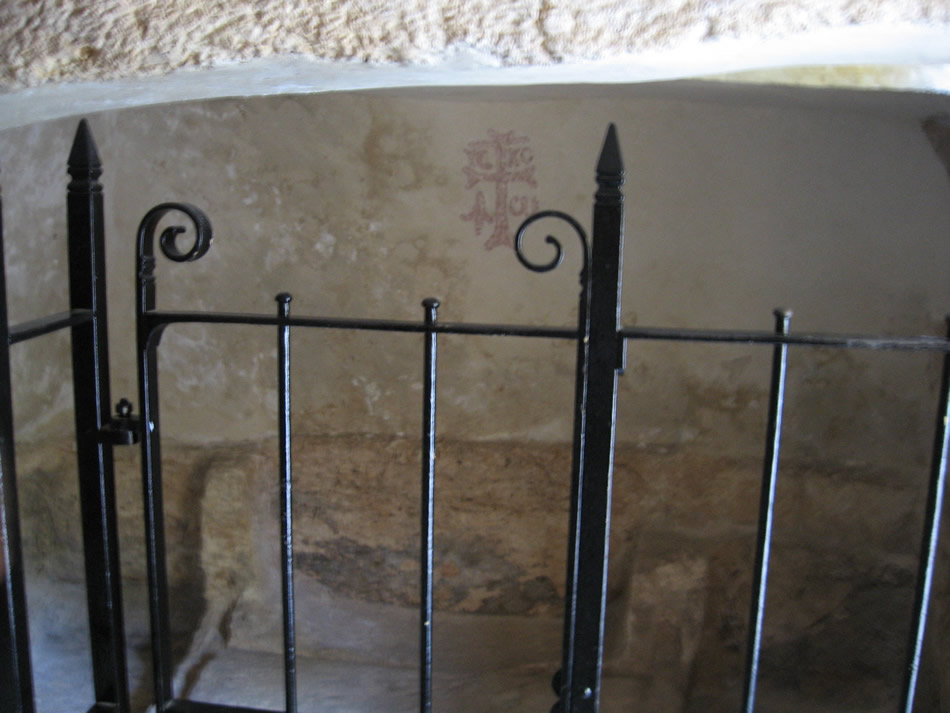 Notice the burial bench was carved away by the Byzantine Christians to create a rock sarcophagus.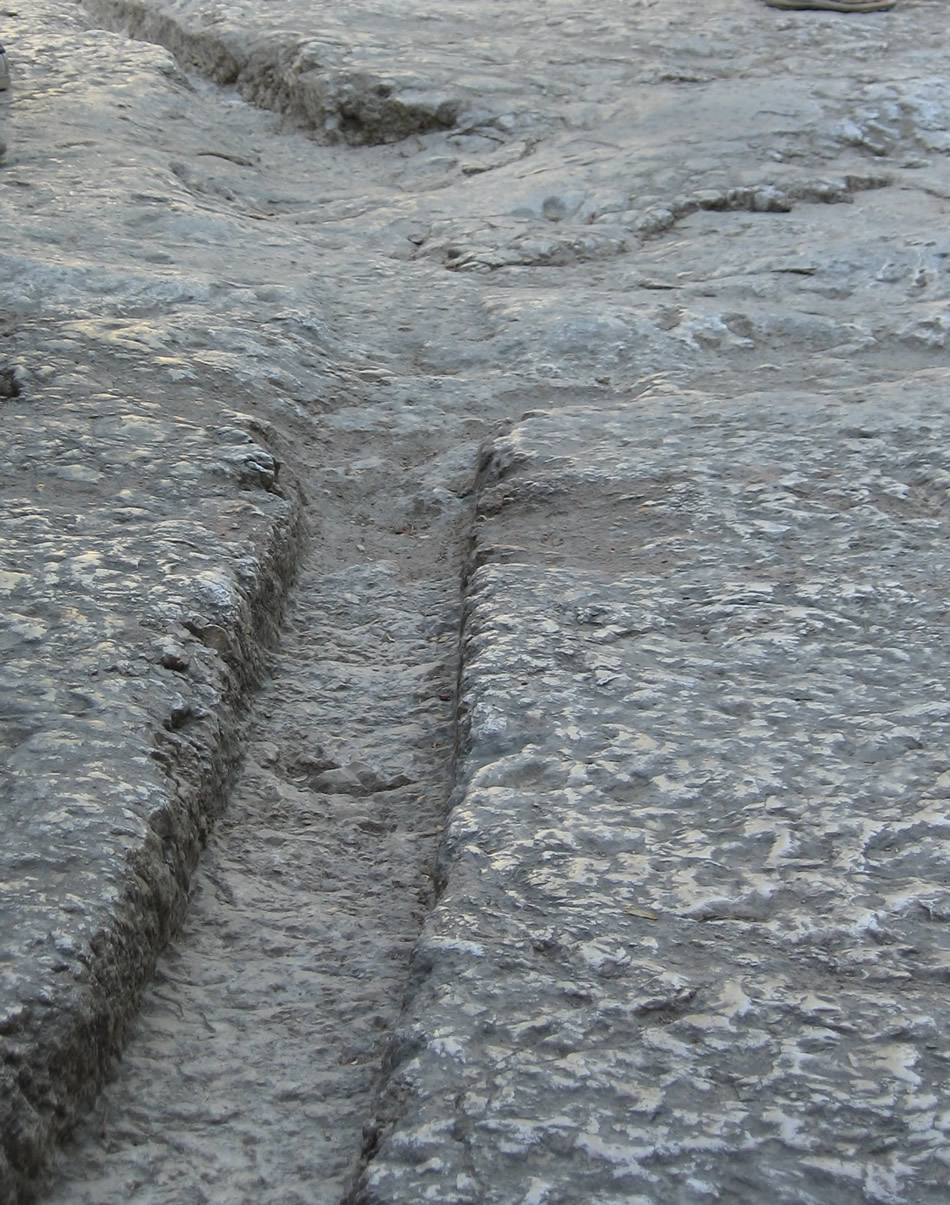 Jesus Christ Our Savior. Jesus The Lord.


Remains of Tabernacle Dwelling
First Temple built by Solomon
Wall closest, Archaeological ruin of First Temple Wall.
Models of Second Temple
Night at Golgotha, Vasily Vereshchagin
Arch of Titus, Conquering Jerusalem, relief on the wall. The Ark of the Covenant is missing. The gold from the Temple was used to build the Colosseum. Jerusalem was destroyed in 70 AD, the time of the natural death of Jesus, if He'd lived to be old.
Way of the Cross, Good Friday Service at the Colosseum
4th Century Church of St. Peter's built by Constantine. Built to look like the Royal Stoa of the 2nd Temple in Jerusalem.
4th Century Church of St. Peter's built by Constantine
St. Peter's Interior Today.
Stained Glass Cathedral Rheims
Lyon Cathedral
Wells Cathedral
Country Church painted by Dzvinka Stifel
Beautiful altars
Psalm 90
A Prayer of Moses, the man of God.
1 Lord, you have been our dwelling place [
our refuge
]
in all generations.
2 Before the mountains were brought forth,
or ever you had formed the earth and the world,
from everlasting to everlasting you are God.
3 You return man to dust
and say, "Return, O children of man [
of Adam
] !"
4 For a thousand years in your sight
are but as yesterday when it is past,
or as a watch in the night.
5 You sweep them away as with a flood; they are like a dream,
like grass that is renewed in the morning:
6 in the morning it flourishes and is renewed;
in the evening it fades and withers.
7 For we are brought to an end by your anger;
by your wrath we are dismayed.
8 You have set our iniquities before you,
our secret sins in the light of your presence.
9 For all our days pass away under your wrath;
we bring our years to an end like a sigh.
10 The years of our life are seventy,
or even by reason of strength eighty;
yet their span [
or pride
] is but toil and trouble;
they are soon gone, and we fly away.
11 Who considers the power of your anger,
and your wrath according to the fear of you?
12 So teach us to number our days
that we may get a heart of wisdom.
13 Return, O Lord! How long?
Have pity on your servants!
14 Satisfy us in the morning with your steadfast love,
that we may rejoice and be glad all our days.
15 Make us glad for as many days as you have afflicted us,
and for as many years as we have seen evil.
16 Let your work be shown to your servants,
and your glorious power to their children.
17 Let the favor [
beauty
] of the Lord our God be upon us,
and establish the work of our hands upon us;
yes, establish the work of our hands!
Psalm 90:4
For a thousand years in your sight are but as yesterday when it is past, or as a watch in the night.
2 Peter 3:8
But do not overlook this one fact, beloved, that with the Lord one day is as a thousand years, and a thousand years as one day.

Two days ago, Jesus Christ offered Himself as our sacrifice. Death was abolished and a new Heaven was written of by the apostle John, breathed out by the Holy Spirit ~ in the eyes of our Father God.

When we stand in our sanctuary, Church, praising God, we are - in His eyes - a mere breath away from the events we see posted today. We are just dust,
, but Precious in the eyes of God. God is God of the Living. Many generations Living with Him; He is our refuge.
Jesus The Lord. Thank Thee for what Thou Hast Done for us, Your Beloved Children. Heirs in Promise to You. Amen.